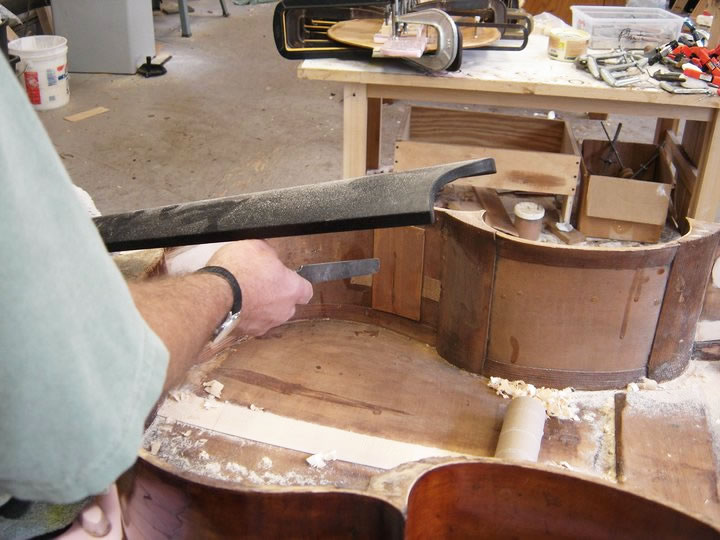 Repairs & Restorations
Whether you have a small repair or a major restoration, the experience of a highly skilled, dedicated craftsman is needed. With literally thousands of repairs and restorations under our belts, we are well versed in every aspect of the job. We rely on years of knowledge; yet always keep up with the latest tools and techniques.
With only experienced luthiers on our staff, we'll get your bass back to you in a timely fashion, and make every effort to keep in contact with you throughout the process. We provide detailed estimates where options are carefully explained, and we'll work within a budget that is comfortable for you. Expert bow service and re-hair are also available.
As working musicians we understand that every genre of music and each individual has a different set of needs. So you'll receive personalized, respectful service. We'll work with you to optimize and personalize the sound of the instrument, as well as to improve response and playability.
We also strive to be as non-intrusive as possible in our restorations. Our aim is to return the bass to its original condition with a minimum of reinforcements used in the process. This ensures that the tone is not altered, and many times can actually be improved. Labor-intensive chalk fit diamond cleats are used on each individual crack instead of strap cleats or strips of wood. This allows the top to move more freely and vibrate as was originally intended. Bass makers take a lot of effort to keep the top, back and sides of the instrument flexible, so our intention is to restore the components to their original condition.
Damage never happens at a convenient time, so in a pinch we will use our "bag of tricks" to keep your bass playing until more intensive repairs can be done.
Last and most importantly, all repairs are reversible, since we use only water-soluble hide glues. Basses are meant to last for generations, so we never assume we will be the last ones to work on them.