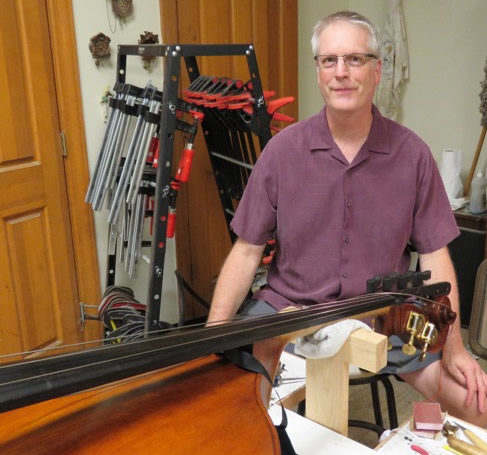 Andrew Stetson
Originally from New Jersey, Andrew Stetson came to Cincinnati to pursue a degree in bass performance from the Cincinnati Conservatory of Music. After graduating, Andy made his living as a musician playing in orchestras around the region including Dayton, Charleston, and Columbus, as well as chamber orchestras and the Cincinnati Ballet. Weary of being a "road warrior", Andy decided to pursue his interest in woodworking. He spent years restoring antique clocks and turn of the century Victorian homes. Both of those interests helped hone his knowledge of intricate woodworking skills.
Then Andy met up with Chris Roberts (another nomadic bassist) and decided to put his woodworking skills to use in making minor bass repairs. Seeing a huge need for luthiers that could play and understand the needs of modern bass playing, both Andy and Chris spent years studying bass construction and restoration under renowned luthier Albert Jakstadt.
Once the Bass Cellar was officially up and rolling, Andy started to put together a network to sell the basses the duo were restoring. Once again seeing a huge need, Andy put together a sales component to the business that quickly became the largest in the Mid-west. A new transparent approach was used where buyers would be able to know the seller and any fees were known by both. This system has been very much appreciated in an instrument sales world that has been fraught with teacher and institutional kickbacks.
Andy continues to work as a bassist, playing locally and across the country in orchestras and in the pit at various Broadway shows. After 27 years in the business his passion for his craft is higher than ever.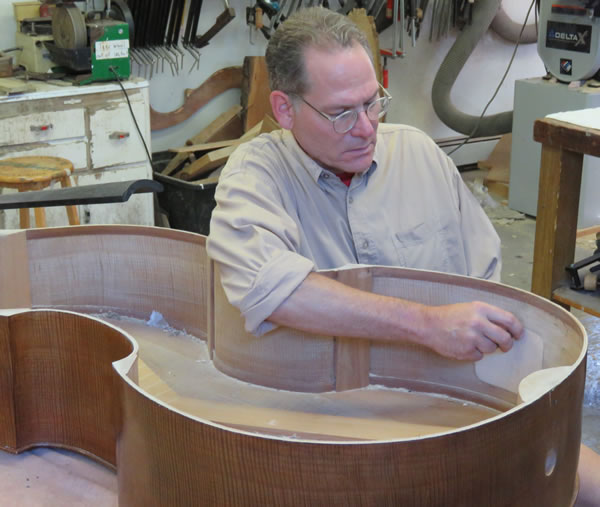 Christopher Roberts
Christopher Roberts began his luthier work in Lubbock, Texas. He worked in the shop of George Robinson during 1983-84. Under the tutelage of Dr. Robinson, Chris became familiar with many techniques of string instrument restoration. He moved to Cincinnati in the fall of1984 to pursue a MM in Double Bass performance at the Cincinnati Conservatory of Music. He worked for a short time at Buddy Rogers Music Company, maintaining the rental string instruments to supplement his income while attending classes at CCM. While in school, he met Andrew Stetson. Both he and Andy were appalled at the poor work that was being done to the noble double bass in many luthier shops. They began restoring locally and soon made the acquaintance of Albert Jakstadt, The legend of the Bass Viol Shop in Cincinnati. Chris and Andy spent many hours with Al, learning the finer points of bass restoration and construction. Al was and remains a valuable resource to the community of luthiers.
Chris's basses have received numerous Medals for Tone and also won Convention Favorite at the 2007 International Society of Bassists Convention.
Chris meets and greets everyone that comes in the door (his bench is closest). As everyone will attest, he'll make you feel comfortable and at home. He'll thoroughly explain, maybe more than you need to know….the process and details of your repair. He takes time and care whether you have a beat up plywood or an expensive pedigree instrument. All bassists feel better about whatever damage or maintenance issues that brought them to the shop after a "session" with Chris!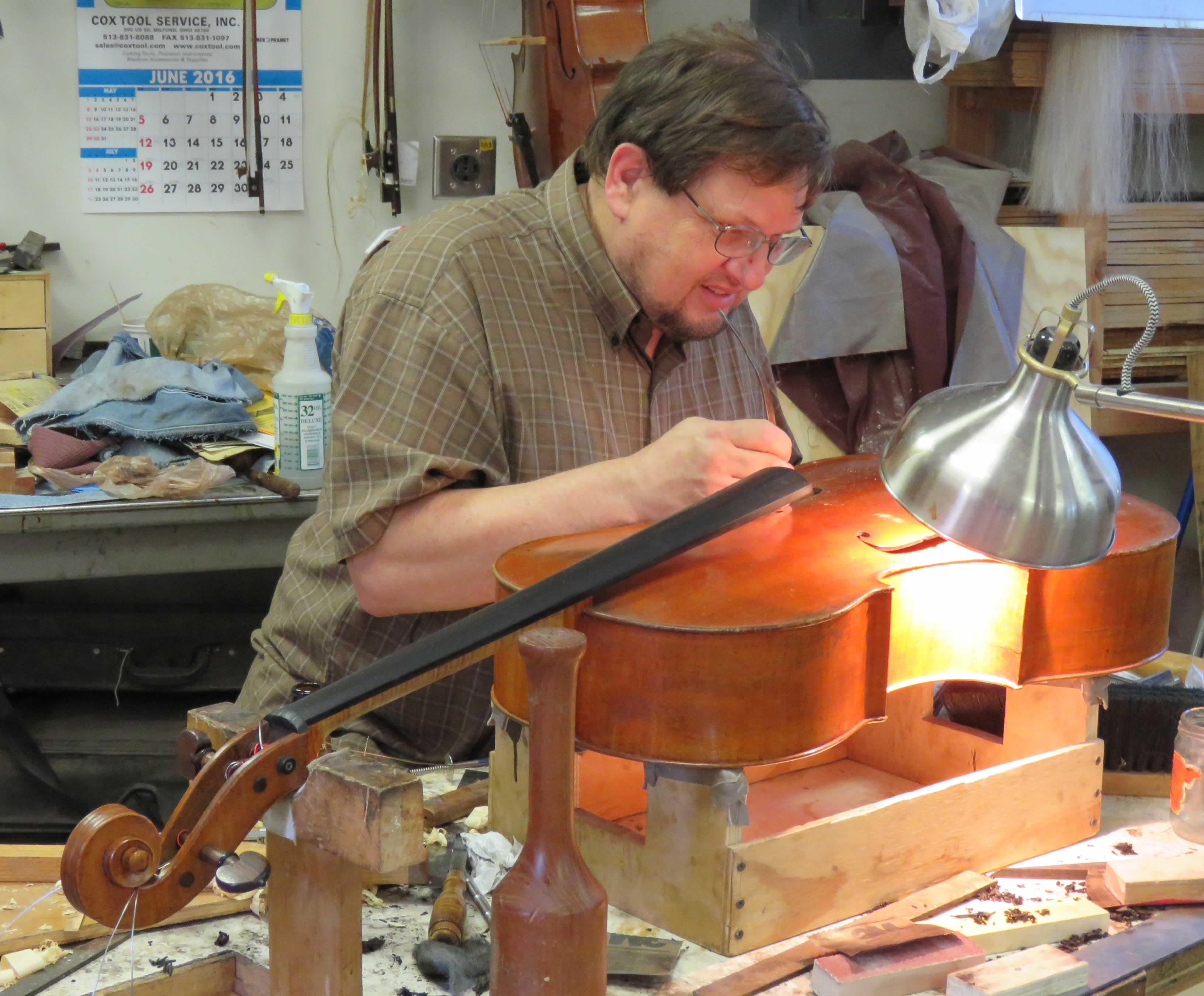 William Lakeberg
William Lakeberg, a native of Chicago, has over 40 years experience in the field of string instrument making.and restoration. He is one of the earlier graduates of the Kenneth Warren School of Violin Making (now the Chicago School) where he was under the tutelage of master violin maker Tshu Ho Lee.
After working for years in Seattle and Indianapolis Bill worked at the Bass Viol Shop in Cincinnati from 1987 to 1995. During that period he had the pleasure to work alongside well know bass maker, Al Jakstadt. At that time Bill's primary focus turned to bass restoration and set-up. Many fine old basses were saved from ruin after suffering through the nail and white glue era of bass repair.
In 1992 he started a custom varnishing business which resulted in the hand varnishing of over 2000 cellos, violas and violins for various string instrument companies. In 1997 he and Peter Baer started Lakeberg and Baer , a company that focused on the making of double basses of the finest quality. In 2001 Bill went solo to concentrate on bass making. Bill most recently (2007) has joined Andy and Chris at the Cincinnati Bass Cellar where the emphasis will always be the ex-cellence of the making and restoration of the double bass.
Awards received
Gold medal – Violin Society of America
Silver medal- VSA
3 Silver medals – International Society of Bassists
Numerous workmanship and tone certificates- ISB
2 merit certificates for tone – Violin Society of America
2 merit certificates for workmanship – Violin Society of America
Bill currently has two models Giuseppi Ceruti and Gio Palo Maggini