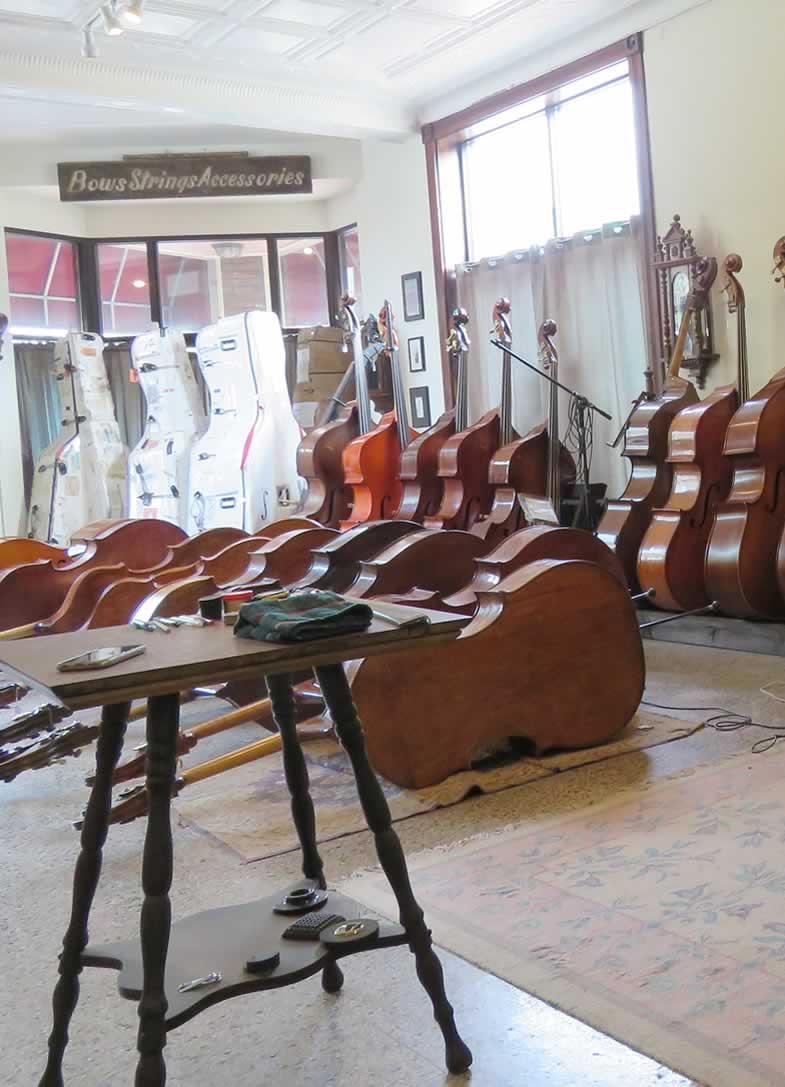 Hello, we are Cincinnati Bass Cellar.
The midwest's premier, full service bass specialists.
With over 8o years of combined experience , our award winning trio of bass experts handle your needs with care and professionalism. Whether you are purchasing one of the finest instruments on the market, restoring a prized heirloom or purchasing your first bass, you have our full attention and respect.
Est '89 by skilled luthiers.
The Cincinnati Bass Cellar was established in 1989 by bassists/luthiers Andrew Stetson and Christopher Roberts as a Co-op of skilled luthiers that included renowned restorer and maker Albert Jakstadt. Our workshop was originally housed in the "cellar" of a victorian mansion, thus the name.
We purchased a turn of the century commercial property in 2007, expanding our shop to almost 6,000 square feet. Our showroom exhibits up to 50 basses, from the highest pedigree to the most basic student model. We have always specialized in bass building and major/serious restorations, and the current repair shop can accommodate numerous long-term restorations, as well as minor repairs, and our legendary set-ups.
In 2006, multi-medal winning luthier William Lakeberg became the perfect addition to what we now consider the best staff of maker/restorers in the country.
As working musicians, we understand…
We are working musicians, holding positions in the Cincinnati Ballet, Cincinnati Chamber orchestra, Dayton Philharmonic and Peninsula Music Festival; as well as filling in with orchestras across the country and Hawaii.
And you'll get outstanding care.
You know that you're getting our personal attention as the front door leads directly into our workshop, and you'll be personally met by one of our trio of luthiers. No worries that a receptionist might not understand your problems, you'll always be in direct contact with the person working on your instrument.